Cloud-based CRM is a unique and innovative software system for companies of different sizes and various businesses to use in the working process and take it to the next level. Cloud based CRM systems help you improve and manage customer relationships, increase profits and incomes, enhance customer satisfaction and customer support, improve marketing campaigns, automate work process, grow sales, always be available and updated, and much more. Customer relationship management has become an inseparable part of the way we understand and do business, and that is because customer's role is the crucial one in this long journey of creating and selling services and products.
Cloud CRM software systems guarantee that every work process is automated and controlled. It increases your team's productivity, ensures security and effectiveness of every product you create. It's secure, affordable, flexible and easy to use. What else can be a better choice of taking your business to the highest level? So, if you are in doubt of what cloud system to choose for your company, and wonder whether there are good free cloud based crm software in the market, this article will definitely be the best guide to make your journey interesting and efficient.
Customer Relationship Management is Crucial for Your Business Success
CRM stands for customer relationship management – an approach to managing your company's interaction with both your current and potential customers. If you wonder how it works and want to try one for your unique business, you will receive all answers to your questions. It uses data analysis about customers' history with your company, focusing on customer retention and driving sales growth. The systems of CRM compile data from a range of different communication channels, including your company's website, phone, email, live chat, marketing materials and so on. CRM systems help businesses learn more about their target market and how to satisfy their needs and meet their demands. https://en.wikipedia.org/wiki/Customer_relationship_management
CRM is a must for today's business world; everybody is talking about CRM, every company uses a CRM system, every automation process starts and ends with a CRM system solution.
But the most important part is to know for sure which solution fits your business model best. In order not to be mistaken you should have at least a basic knowledge of CRM systems, their types, features, functions and tools, thousands of opportunities and goals. If you are a huge company owner, or just a small business owner who have just decided to implement a CRM system or a successful businessman who needs a really good solution to automate business processes and take them to the highest level possible, this article will be definitely of great help in a long and endless way to find the most suitable solution for your unique business needs.
Which Type of CRM Systems to Choose?
Which one to choose – Saas or Stand – alone, cloud or own server? The decision is not an easy one, but it should be based on some information, a good research and, of course, factors. If you know your business needs and requirements for sure, it will not at all be so difficult to choose the needed one.
There are two types of CRM-systems created on the basis of different technologies:
Saas or the system as a service. With this option, all the software and data are on the server of the service provider. You get online access to the system through a browser, a client program or a mobile application. All processes occur on the side of the service provider.
Stand – alone – a license to install and use the software product. You get a solution that installs on your own server, if you want, you can modify it according to your needs, depending on the capabilities provided by the CRM system vendor.
When choosing a Saas-solution you should understand that you may face some restrictions. You cannot change anything in the product code, since the software solutions are located on the side of the vendor of the CRM system. Typically, such CRM-systems allow you to configure the access rights of employees, integrate some external systems (receive data from the site, record incoming calls, etc.), change the design using the designer tools, set up reports, etc. But all this will be stored on the servers of the vendor of the CRM-system.
It is also important to understand that when using Saas-solutions you should always have access to the Internet. Of course, in our time, a reliable Internet has long been an important part of any business, in the absence of access to the network, many business processes stop. Therefore, the best solution is to have a backup Internet access channel in addition to a reliable primary one.
Another important point that you need to understand when choosing Saas-solutions: most likely, for each backup database creation and other similar operations you will need to pay separately.
Pros of Saas solutions:
You do not need your own server to host the software;
You do not need to do any update yourself, it's all on the service provider, and you just use the solution.
Stand-Alone solutions, as mentioned above, are the purchase of a "boxed" solution, which you install on your own server and will be able to change the program code (within the access provided by the developer). In some cases, for example, when it becomes necessary to implement atypical solutions, this level of access is very important.
But most often, stand – alone solutions are not recommended for medium and small businesses. The need for profound changes arises extremely rarely, and therefore Saas is usually more recommended.
What is a cloud-based crm?
Cloud-based CRM means that customer relationship management software is hosted in the cloud. Cloud-based CRM software can be simply accessed through the Internet. This feature lets all users access the same information any time suitable for them.
The information is stored in the cloud. It is secure and easily accessible. One of the advantages is that it can be also accessed on the go, as you have opportunity to reach the needed information and data via mobile or just using your tablet.  Cloud-based systems are the most popular ones in the market nowadays.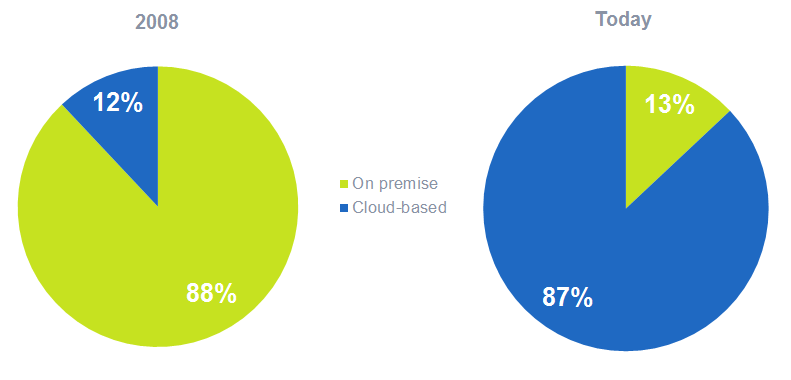 10 Benefits of a Cloud – Based CRM System
Wisely chosen cloud based CRM system is the key for your business success. These systems have so many great tools, exclusive opportunities, and incomparable features that will take your business to the highest level possible and increase your profit as well as make the working process a real pleasure the innovative and professional approaches these systems implement. The advantages of cloud based CRM systems are so many that is never possible to list them all in one article, but we have compiled a list of the most important advantages and the key benefits to help you compare and choose the best system by paying attention to the most important factors. A good cloud – based CRM system helps you streamline customer database, easily automate task management processes, increase the rates of customer retention, have access to every interaction with a customer and, of course, have access to every sales opportunity. All of these unique features and opportunities make cloud based CRM systems an indispensable part of our businesses and daily operations. Today's world can't develop without customer relationship management, as well as process automation and innovative approaches, as every step this systems offer turns our work into an easier and more profitable one, which is crucial for business growth and success.
Here are 10 benefits and reasons why cloud-based CRM software is something really important for your company's smooth operation, process automation and future development.
1)   Easy and secure installation process
Many people think that CRM requires a complex installation process, IT support, developers and sleepless nights. This belief is no longer valid. A modern Cloud-based CRM has changed the way we understand and imagine this process. You just need to have an internet connection to run the system, nothing else is required. Then comes the process of signing in and enjoying every opportunity the system provides. There is no requirement for paying for hardware, server or software maintenance, as well as for a developer to do any installation. Every step here is done remotely.
2)   Seamless accessibility
Seamless access is one of the most important and efficient benefits a cloud CRM system can have. Marketing and sales people often need to do any task on the go, be kept up to date, to make some urgent calls, send proposals, follow events or just find information about a contact, whether it is an email address or phone number. Cloud CRM software gives opportunity to access your system and find the needed information from any spot. The whole team has exclusive opportunity to access the centralized database at any time and everywhere. All you need is an Internet connection. You can access the system on any device you use – desktop, a tablet, laptop, or just the smartphone you use. This is a great chance to be kept updated, always stay connected, be flexible, free and have control over every single step.
3)   Ease usage
Another benefit is that no system is easier to use than a cloud CRM. The first step is purchasing the software package. The prices are usually fixed monthly prices suitable for any kind of business. You just need to log in to your account (the access information is provided by the system). Again, it is very important to have a stable Internet connection and just a device to access the system. The system maintenance is also provided by the company you choose as a CRM vendor.
As we have already mentioned, cloud CRM is suitable especially for small businesses. Small businesses are not growing too rapidly and don't have so much money to spend on every system they choose for their business. They purchase a system to grow sales and not to make purchases that will break the company's budget. Purchasing a cloud – based CRM system will make your work more effective and enhance the overall productivity. Many experts talk of the importance of having more free cloud based crm software in this huge market of customer relationship management systems, as it is usually discussed and proven that these systems are a unique chance to grow business especially for small companies and new established businesses.
Even if the majority of good CRM systems are not free, they are really affordable even for small organizations and enterprises, purchasing a cloud CRM will not affect your budget, but increase profits due to organized and automated working process and increased productivity.
Typically Cloud CRM does not require upfront investment; there are numerous subscription models so that you can choose the one best suitable for your business. You don't need to buy hardware, there are no additional license fees and so on. You just pay the monthly pricing for the package you choose and enjoy its opportunities.
5)   Security
Security is one of the most important issues when it comes to choosing and using a CRM system. Web based information must be kept secure and the levels of security depend on the program and the package you choose, so it is of great importance to pay attention to the level of security and the opportunities and tools the chosen program allows. Today's world is controlled by the web based information and A successful businessman knows the real value of a high level of security of the cloud based solution you use for your business needs and requirements and every step to keep the information secure is a new door to success and stability.
6)   Compatibility and Integration
Today's IT world has totally changed the way we think and work, and especially the way we do business. It seems we have the system, the product or the team we need to achieve our goals, but something is always missing. One of these key factors without which it is impossible to succeed and achieve the desired result is compatibility. Every clever and successful businessman wants to invest in a product or a system that implements several functions and goes hand – in – hand with changing technologies and other systems. Information exchange is really crucial in every system. A customer relationship management software can be considered a good and effective one only if it ensures compatibility with other products and systems. Cloud – based CRM can be compatible and easily integrated with other applications or software, among them are email services, Microsoft Word, Microsoft Excel, PowerPoint, and so on.
It is of great importance to have a product that best suits your business needs.
When choosing a CRM system, every businessman, especially those owning a small business should mainly think of important features and tools and find an affordable solution that is easy to use and has high levels of flexibility. So, small businesses can start with the features that are crucial for their business success and that are relevant to their unique business needs and requirements. As your business, company or team grows; there is a need for more capacity, more exclusive features and better tools. It is not a big problem, as cloud based CRM systems offer updates and advanced options. The updates are usually done instantly, so you don't waste much time and don't need to pay more if your needs and requirements have been changed.
Productivity is one of the most important factors in a difficult decision making process which CRM system to choose for your business. Every team dreams of a system that is both easy to use and effective, as productivity in modern world does not mean working at the desk 24 hours a day, but dealing with an effective system that enables perfect automation of processes. Being tied to office desks and servers is not effective any longer, as the technologies change and new solutions are replacing the traditional ones day by day. Cloud based systems definitely prove that fact. Enabling your employees with such a system guarantees that every working process is automated, every task is done in time and every customer is taken into account. Working on the go and being always in touch with customers, being kept up to date and dealing with real time data, delivering more customer insights increases productivity and takes your business to a new level of success.
With the flexibility cloud based CRM systems offer, there is no need for much customization and the system is available whenever you need to have access to your data. CRM on cloud is just an irreplaceable tool for every successful corporation. Another advantage is mobile access. You can access your system from any device that is available at the moment. Cloud systems offer access via mobile apps designed and developed specifically for Andriod and iOS, as well as Windows. In case of the best cloud systems the mobile app has a full synchronization with a desktop version, and there is no need to care your laptop or PC with you if you need to access your data.
The role of a customer is the most important one in your business. Your income is made due to the customers and your services and products are specifically created, designed for customers and sold to them. Your business will be nothing if you don't have a customer interested in what you are doing and creating. Managing customers' data professionally and effectively is crucial.
Structured customer data helps you always be kept updated of what your customers are doing, what actions are taking, what they prefer, what they are fond of, and, the most important step – when they are most likely to buy. This data is very important for you and your team in order to take the necessary steps in time, to follow your customers' tactics, interests and habits, and act accordingly.
Can a Good Cloud – Based CRM Be Free?
In general, a free cloud based CRM system is limited to a certain number of users. The storage offered is limited, to be frank; it is just a symbolic tiny space with a very small capacity. Very often there arise problems with reporting, scheduling, customization and integration, instant support service and so on. This cannot be said of every free cloud CRM system, as there are several good systems that offer good service when you use free demo versions. As the cloud CRM market grows rapidly and new vendors continue to appear in the industry, it is of course possible to have more features and tools for free in the CRM systems we love and use.
 How to Choose the Best Cloud – Based CRM among the Wide Variety of Systems
A company without a CRM system is like a website without content. In today's marketing world content is crucial, as it is a key to reach customers hearts. The same is with customer relationship management systems. If you don't have a proper system to find ways to your customers' hearts, to nurture their interests, meet their needs and requirements, understand their habits and tastes, provide a good customer service and support, you will simply loose them, which means losing a part of your income. So, all you need is a good CRM system for your business to keep your current customers and reach the potential ones. Capturing new customers is not easy at all, but trying to gain back the ones that are not interested in your services any longer is more difficult. In order to avoid this you should just have a system that controls every step and automates the process, so that every customer feels unique and receives such an attention.
How to start? The first step is choosing the best CRM system; the best in this case does not necessarily mean the most expensive one or the one with millions of tools and features. The best system here means the one best for your business specific needs and requirements, business goals and aims.
Choosing a cloud CRM also depends on the type of your organization and your business. First of all you should have a clear understanding of your needs, of your teams' needs and requirements. When choosing a CRM system you should pay attention to every single tool and feature, compare various software, their pricing options, and opportunities, upgrade options, customization and integration opportunities, functions, security and flexibility, and so on.
Choosing the best system for your company is becoming more and more difficult, as the CRM market and IT field are developing rapidly, the number of CRM systems is growing faster than one could have imagined, customers want more, their buying habits are changing, the trends in the market are being replaced by new ones and so on, but if you have a clear understanding of what you really need and know your target market, all you need to do is just comparing several apps and choosing the best one suitable for your business. We have made this process even easier by a good market research. We have compiled a list of the best cloud based crm software available in the market for you to read, make comparisons and come to a decision to choose the one you need. Go on reading and discover the top systems that will turn your business into the most successful one.
What Are The Top Cloud- Based CRM Systems?
As mentioned above, it is not such an easy task to choose the best CRM system among the variety of software that best suits your specific business needs. Yes, it is difficult, but not impossible, as the market is full of not only simple systems, but great systems that will fully transform your business.
Here is the list of top cloud CRM systems for you to consider, compare and choose the most effective and suitable one to grow your business.
№1: Bpm'online
Bpm'online (https://www.bpmonline.com/crm/cloud-crm) is a leading vendor when it comes especially to cloud CRM systems and it is one of the most productive and popular CRM systems in the world.
This process-driven solution is used by thousands of companies, organizations and individuals to transform their businesses into more productive and successful ones. This cloud based system aligns several disciplines, such as marketing, service and sales. The automation of these disciplines helps companies and enterprises manage their every process in time and more efficiently and achieve better results. This single CRM platform aligning several systems is an indispensable part of many world famous companies in the long journey of creating and selling products, marketing them, and, of course, managing customer relationships and guarantying great customer service.
Bpm'online can be deployed as a cloud-based solution using a web browser or just a mobile app. This system is compatible with Windows, as well as IOS systems.
One of the greatest benefits is that this unique system offers a free trial with the best features possible for a free version, however, if you want more, you can always upgrade to another version.
№2: Salesforce
Salesforce (https://www.salesforce.com/products/sales-cloud/overview/) cloud based CRM system is another popular and effective customer relationship management system that offers various apps and opportunities for different companies and organizations: small, medium sized and enterprise ones. The focus is on service, support, sales and customer satisfaction. The Salesforce software also aligns several systems and apps that help companies and businesses manage their processes and relationships with customers. Such apps are specifically designed for managing and tracking sales, managing contacts, automating marketing services and campaigns, managing customer relationships and their accounts and so on.
№3: SalesNOW
SalesNOW (http://public.salesnow.com/public/tour/overview/hosted-in-the-cloud/) is a cloud based CRM software system that can be accessible from any device. This platform offers several applications, for example ones designed and developed for Android, iPhone, iPad, as well as Blackberry. This cloud system is very easy to set up, as well as easy and intuitive to use and customize. Salesnow is well known for its effective tools and features, with the help of which you can manage contacts, track activities, manage leads, customizing tabs, funnels, reports, data and much more. Sales forecasting, analytics and activity reporting, and graphical representations are another great tools. What concerns pricing and fees, they are charged on monthly basis.
№4: HubSpot
HubSpot (https://www.hubspot.com/products/crm ) is definitely among the top vendors in the industry of cloud – based customer relationship management software. This cloud-based customer relationship management system is designed for companies of every size to help them succeed in various fields including retail, accounting, real estate, sales, marketing, and customer support and so on. HubSpot's real time tracking of the entire sales process makes it a right hand for every team member to succeed in work. Every interaction is tracked automatically via various channels and stored in a dashboard, which is a great way to store data and track. The integration options with social media channels, the unique apps and templates this platform offers are also one of the greatest benefits that only the best CRM systems offer. HubSpot offers many features for free, but if you want more, you should upgrade.
№5: Netsuite CRM
NetSuite (http://www.netsuite.com/portal/platform.shtml) is another popular cloud CRM vendor in this diverse market of cloud based management systems. This exclusive solution covers such important industries as manufacturing, marketing, retail, customer support, wholesale, and so on. It offers unique features and tools to grow your sales, track various activities and manage the overall working process. Among them are analytics, data management, customer relationship management tools, e – commerce and much more. The system is also available on mobile devices and this function makes it even more effective to be available everywhere and anytime your team and customers need.
№6: Base CRM
Base (https://cloud.base.de/ui/jsp/login.jsp ) is another great vendor in cloud – based customer relationship management market that is available anywhere anytime. This effective and famous CRM system offers numerous great features and tools for businesses of different kinds and sizes to manage their sales, track leads and reach customers from everywhere in the world. This cloud based system is available for both web and mobile versions which makes it even more productive and secures your data enabling your team to act and work more professionally.
Automated sales process and properly tracked leads, professional marketing campaigns, sales pipeline, spreadsheets and templates and thousands of such functions and features make this cloud system one of the most popular and efficient ones in the market. The cloud system is all every company needs nowadays and mobile access turns your daily tasks and working process into a real pleasure. Apps are developed and designed specifically for iOs, Android and Windows. The system also allows integration with various systems and solutions worldwide.
№7: Claritysoft
Claritysoft (https://claritysoft.com/) is also a good option when it comes to choosing a cloud system for your business specific needs. It has a perfect contact management system, as well as it allows integration with such popular and mostly used systems as Google Maps, QuickBooks, Excel and Outlook. Another great functionality of this system is email marketing. Hundreds of email templates are available in the system for you to choose, design and filter according to your preferences and requirements.
The cloud system allows perfect customization. The offline mode allows making the needed changes in the system and sync whenever the system is online again. Claritysoft is also well known for its good support service via phone and email, which is free of charge.
№8: HaystackCRM
HaystackCRM (https://www.haystackcrm.com/) is another good option, especially when you need it for your small or midsize business. It offers many great features as geolocation, data and opportunity management, custom tags and quotes creation, event management, contact management and synchronization, email integration and much more.
It allows access your data via mobile apps designed and developed for iOS and Android devices, so that you are available 24 hours a day on any device you use.
№9: ProsperWorks
ProsperWorks (https://www.prosperworks.com/) is also among the top cloud-based CRM platforms that help companies of various sizes manage sales, customer relationships, marketing campaigns and customer data and achieve more productivity due to the perfectly automated working process. This system is one of those rare ones that can be used for any field whether it is distribution, marketing, sales, real estate, advertising and so on.
This cloud – based software system helps enterprises to manage their leads and track them with the help of great functions and tools, as well as manage opportunities and save customer data automatically due to the amazing functionality of the system. The program is great for email integration, storing various data and events, while its drag – and – drop functionality makes your work much easier and fast, saving time and money. Your team members will definitely love the majority of these features.
№10: Infusionsoft
Infusionsoft (https://www.infusionsoft.com/) is a cloud-based CRM softare system that has many users and followers worldwide. This CRM aligns several disciplines and systems into a single platform trying to give more to its customers to increase their productivity and achieve their business goals. It unites such platforms and systems as marketing, sales and E-commerce making your working process automated and controlled.
The system has such unique tools as reporting and analytics. Infusionsoft also allows managing contacts, tracking leads, sending emails, managing every sales activity and running marketing campaigns. E-commerce function is just great for users to send payments, track activities, send invoices and quotes and much more.
Mobile access is another great advantage. iOS and Android apps are developed to take your sales to the next level by being available everywhere in the world.
Conclusion
Cloud – based CRM systems have definitely replaced every CRM system that used to be popular and loved by even millions of users. IT world is developing day by day, it affects every sphere of life, customer relationship management is, of course, among the systems that are changing and developing rapidly. The role of even a single customer is crucial in every business, and managing customer's data, nurturing needs and trying to keep up with buying trends changing so fast is a must for every company and business. All you need is a good CRM system to automate the working process and increase the overall productivity of your team.
Cloud – based systems became an indispensable part of our businesses as they give opportunity to be kept updated, to be available everywhere anytime and be closer to customers. Every customer needs to be treated as a unique one and keeping them is a key to success. Therefore the security of data and its availability for every team member anytime is more than important.
The cloud CRM market is strengthening its positions as new vendors are appearing in the industry every day. Some of them disappear earlier than others; some appear in top places and never leave them. It was not an easy task to choose the top 10 systems among this wide variety of software, but the choice was made according to ratings, the number of users, features and so on. Every CRM system listed above is unique as each of them has exclusive tools, features and functions specific to them, but if we had to choose one and advice to our readers, that would definitely be bpm'online. It comprises the most effective features and tools companies of any size need to grow and develop and aligns several disciplines which just make your work complete and professional with no need to turn to other systems. Besides, this is one of those rare cloud CRM systems that offer the greatest features when you choose the free version of the system.
The choice is always yours. If you need a simple system for several individuals, there are always many free CRM options with limited functions, but if you want something really good and productive for your growing business, you can choose one of the above mentioned systems, which are both effective and affordable.